IT/AV Facilities at Northwood School
To use the AV / IT facilities at Northwood School please review the following:
Laptops:
Please email Madressa Office to book a laptop.
Please arrive 10-15mins early to collect the equipment and to also get your laptop working before class starts including setting up WiFi.
If you do not have access to the WIFI username and PW list, please contact your HoD prior to Sunday.
Please note: The school uses the LGFL firewall, which means that some websites, video sharing sites, email accounts (like gmail, yahoo mail etc) are all blocked. Therefore, you are strongly advised to either test the resources you need the week before or download as much as possible at home and bring in the material on a USB drive.
Furthermore, if you are planning on showing a video from YouTube or from any video sharing website, it would be advisable to download the video at home using http://keepvid.com. You need to copy the link of the video into the box, press download and choose one of the mp4 formats for download.
Connecting to the Projector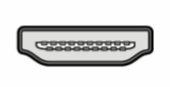 HDMI Port
There is a HDMI port on the wall near the bottom of the whiteboard in each room where there is a projector. HDMI carries both sound and video.
VGA Port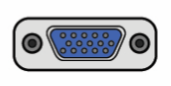 There are VGA ports as well, currently these are connected to the school's own computer and so if these are to be used, you must ensure you re-connect the school computer back. VGA will only carry video and not sound.
If you have a Mac or other (non-PC device) please ensure you have the correct connection equipment to connect to a HDMI / VGA port. The Madressa does not stock all interface equipment.
Remote Control
Here is a picture of the remote control for each projector.
If you have any queries, please email admin@madressa.net and we will assist further.